rssVehicle System and Carshops (carsystem)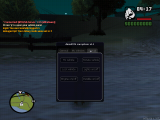 (see 4 pictures)
| | |
| --- | --- |
| Category: | script |
| Author(s): | diesel974 |
| Downloads: | 3343 |
| Rate: | You need to be logged in to vote |
| Rating: | 3.7 (6 Votes) |
Description:
This is one of the script that took me weeks to make. This script consists of M menu(press m). With this script, you can buy vehicles (car,bike,plane and boat), 2 each, and you can spawn the vehicle whenever you want. you also have a free car, a hustler(personal button). You can also sell your vehicle at half price at otto.
The M menu also has the following features : Fix,rotate,invisible,engine,lights and lock. Try it and see by yourself.
This one uses account name to save data instead of player's nickname.
Version history
Version
Publish Date
Changes
1.4.0
2014-07-21 04:58:25
uses account name instead of player's nickname.
Also, removed the xml files which are created when players buy vehicles....because apparently xml files create lag :/
Vehicle color warning..fixed.
Well, if any bugs found, plz report to me asap.

Download
1.1.0
2014-07-20 06:44:27
version 1.1
Plz note, when you buy a car, its your nick which is saved in sql, not account name. i will add the account name version later.

Download
1.0.0
2014-07-18 19:38:09
First public release
Download