rssCustom Blips (customblips)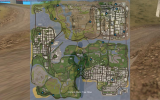 (see 2 pictures)
| | |
| --- | --- |
| Category: | misc |
| Author(s): | Talidan |
| Downloads: | 10903 |
| Rate: | You need to be logged in to vote |
| Rating: | 3.8 (74 Votes) |
Description:
Create your own radar blip icons!
customblips allows you to create your very own customblips that appear on the F11 map and the radar! No more having to deal with the limited icon set hardcoded into GTA, as you can import any .png or even GUI element as a blip!
customblips also features a built in blip streamer, so you can stream your blips so they appear on F11 map at all times, but not the radar.
customblips is a utility script that allows other resources to call its various exported functions, to create your very own custom blips. See full documentation at:
http://wiki.multitheftauto.com/wiki/Resource:Customblips
Forum topic:
http://forum.multitheftauto.com/viewtopic.php?f=108&t=28741
Version history
Version
Publish Date
Changes
1.1.0
2012-02-04 22:08:42
* Added setCustomBlipVisible, and isCustomBlipVisible
* Increased script performance
Download
1.0.1
2010-08-10 03:41:10
Radar blips are now scaled to GTA's default size.
Added setCustomBlipAlpha and setCustomBlipRadarScale (see wiki page for details)
Download
1.0.0
2010-08-09 02:34:00
First public release
Download