rssAlternative Map Editor (alternative_editor)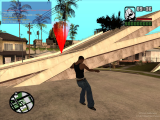 (see 5 pictures)
| | |
| --- | --- |
| Category: | misc |
| Author(s): | Mr.Hankey |
| Downloads: | 7733 |
| Rate: | You need to be logged in to vote |
| Rating: | 3.8 (129 Votes) |
Description:
This is an alternative editor that is supposed to make mapping for mtadm easier until the official map editor is released. (Read the "Important" note at the bottom of this description)
Note: In order to save maps the server admin has to set the editor resource into the admin or map_editor acl group!!!
Features:
*Load and save maps (Map files are created in this folder: .../MTA San Andreas/mods/deathmatch/resources/unofficial_mapeditor )
*Creating new objects by entering the id and clicking where the object shell appear ( A complete list of all id's can be downloaded here:
http://rapidshare.com/files/93493479/objects.zip.html
)
*Moving and rotating a selected object on all 3 axis
*Godmode for the Player
*Airbreak function for easier mapping high in the sky (Credits go to Offroade
r23 I copied a function from his airbreak script and adjusted it for this resource)
*You can alter the stepsize to speed up or slow down the rotation/moving speed of objects

Keys:
Use J to open the options menu where you can switch between select and create mode, give/remove jetpack, set stepsize, set object id and save/load the current map
Use H to show/hide the cursor
Use right shift to toggle airbreak mode:
*Num8/Num5: Move forward and backward
*Num4/Num6: Move left and right
*Num+/Num-: Move up and down

If you selected the create mode you can create a create a new object by showing the cursor and then left clicking where you want the object to be created.

If you selected the select mode and you have selected an object you can use these keys:
*ArrowUp/ArrowDown: Move on y axis
*ArrowRight/ArrowLeft: Move on x axis
*PageUp/PageDown: Move on z axis
While holding ctrl in selection mode down you can use the above mentioned keys to alter the rotation along all 3 axis

In both modes you can use the middle mouse button to delete an object.

IMPORTANT: This editor was made in a very short period of time, might not be very userfriendly and all objects are created clientsite so you won't see objects that someone else on the server creates!!!!
...

(more)
Version history