rssHBT_LoginPanel (-hbt-login_panel)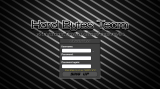 (see 2 pictures)
| | |
| --- | --- |
| Category: | script |
| Author(s): | John_Scott |
| Downloads: | 15171 |
| Rate: | You need to be logged in to vote |
| Rating: | 4.1 (10 Votes) |
Description:
- Hard Bytes Team - Login Panel
Created by.: John_Scott
You can login in a cool login panel. The resource can login and register functions and save data to xml.
You cann find a Not now button, from this you play as guest.
You can change only background image, and separately the buttons and windows!
My webpage:
http://gamager.com/
I no longer active in MTA, so I can't help you about it. Sorry.
Version history
| Version | Publish Date | Changes | |
| --- | --- | --- | --- |
| 1.2.0 | 2013-01-26 19:16:21 | First public release | Download |