rssTCT (tct)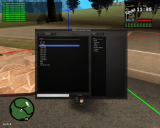 (see 4 pictures)
| | |
| --- | --- |
| Category: | script |
| Author: | TEDERIs |
| Downloads: | 8809 |
| Rate: | You need to be logged in to vote |
| Rating: | 3.8 (31 Votes) |
Description:
The constructor is a convenient way of working with in-game objects. Moving and creating objects is due to the position player, which gives greater accuracy and speed in construction. The player is offered a menu with a list of available objects and tools.
In order to open the menu you must press and hold f5 or use the "tct" command.
While moving the object by using the numpad:
num_8 - forward
num_2 - backward
num_4 - left
num_6 - right
num_add - up
num_sub - down
( alt+keys above to rotate )
num_3 - accept ( using with tools )
num_5 - place the object
num_dec - cancel
z - alignment
To place the selected object, you must press num_5. To use the tool, the first thing you should do is select it from the Tool list. Then targeting at the object and press num_
3.

Commands:
tct - toggle constructor window
mapsave - save the map(only for players with access to "command.tct" ACL action)

ACL access required:
"command.tct" to access the constructor(if the "*checkPermission" setting is "true") and modify the objects of other players.
...

(more)
Version history
| Version | Publish Date | Changes | |
| --- | --- | --- | --- |
| 1.2.2 | 2012-06-06 06:58:33 | Fixed constructor key bind | Download |
| 1.2.1 | 2012-06-06 06:49:44 | Added permission checks for access to constructor. Fixed floating value in the map files. | Download |
| 1.2.0 | 2012-05-12 12:53:58 | Added tool helper | Download |
| 1.1.0 | 2012-05-11 06:10:56 | added Trigger example tool; small fixes and tweaks | Download |
| 1.0.0 | 2012-05-08 13:11:43 | First public release | Download |