rssFreeroam GUI (freeroam)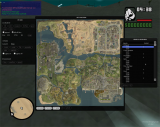 (see 1 picture)
| | |
| --- | --- |
| Category: | gamemode |
| Author(s): | arc, MTA_Contributors |
| Downloads: | 43012 |
| Rate: | You need to be logged in to vote |
| Rating: | 3.9 (765 Votes) |
Description:
Staff note: This may be outdated. Please use the version in the official resources that you can get from:
https://mirror.mtasa.com/mtasa/resources/mtasa-resources-latest.zip
=============
This is a graphical interface for freeroam servers. Instead of having to memorize and enter console commands, players can click buttons and make selections from lists. (The main button to bring them up is F1). Many features are available, from creating and customizing vehicles to changing gravity/speed and weather. A map is also available for point-and-click teleporting.
Many features are also available via console commands. If the helpmanager resource is started, players can press F9 to view a list of these.
Server admins have many settings available in meta.xml. Among others you can disable an
y functionality you don't want your players to be able to use, and can also disable specific weapons and vehicles
...

(more)
Version history
| Version | Publish Date | Changes | |
| --- | --- | --- | --- |
| 1.5.7 | 2021-05-19 01:31:47 | Updated to version from latest official resources | Download |
| 1.5.6 | 2018-12-19 05:31:33 | Copied from current MTA:SA release | Download |
| 1.5.5 | 2018-03-28 21:15:04 | Copied from current MTA:SA release | Download |
| 1.5.4 | 2017-09-25 11:12:10 | Copied from current MTA:SA release | Download |
| 1.3.5 | 2015-01-09 22:33:23 | Copied from current MTA:SA release | Download |
| 1.3.4 | 2008-08-30 18:54:45 | Number of small fixes: weapon ID's > 46 are no longer accepted (people were cheating around minigun prohibition by using /give 550). Users that are in the "Admin" ACL group can now use all freeroam features regardless of meta.xml settings. | Download |
| 1.3.3 | 2008-04-23 09:22:55 | Added time freeze functionality. Spawn map now appears everytime you die so you can elude spawnkillers. | Download |
| 1.3.2 | 2008-03-24 12:47:09 | Fixed "create" button for vehicle creation not working, possibly others too. | Download |
| 1.3.1 | 2008-03-21 03:39:58 | Fixed teleporting while on a bike (used to result in invisibility and whitescreens). | Download |
| 1.3.0 | 2008-03-12 15:45:01 | Fixed vehicle colors not being synced to remote players. Added trailers to GUI vehicle list. Trailers are not destroyed after a timeout anymore. Added option to meta.xml to have vehicles disappear instead of explode on timeout. | Download |
| 1.2.0 | 2008-03-05 13:10:04 | Fixed car upgrades not being seen by remote players. New map picture. | Download |
| 1.1.0 | 2008-02-10 04:58:59 | The /setpos console command now works if you're in a vehicle. Added new settings for minimum/maximum values for gamespeed and gravity. | Download |
| 1.0.0 | 2008-02-09 17:55:16 | First public release | Download |
Maps for this gamemode