rssNeed for Speed NOS (race_nos)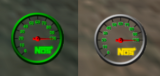 (see 1 picture)
| | |
| --- | --- |
| Category: | script |
| Author(s): | 50p |
| Downloads: | 5112 |
| Rate: | You need to be logged in to vote |
| Rating: | 3.6 (17 Votes) |
Description:
Use your NOS like in Need For Speed!

This is an addon for race gamemode that gives your racers ability to control use of their NOS. Use your NOS as much as you want.

You can use NOS for as long as you hold NOS button (same button as for normal NOS) down. There is a gauge on your screen which tells you how much NOS you have got left.

The gauge change colour at night to green. It gives you a feeling like if you had neons.

Works with MTA:SA 1.0 only.
Version history