rssIngame Handling Editor (hedit)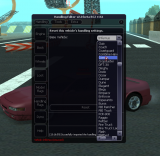 (see 10 pictures)
| | |
| --- | --- |
| Category: | script |
| Author(s): | John_Michael, qaisjp, Remi-X |
| Downloads: | 68038 |
| Rate: | You need to be logged in to vote |
| Rating: | 4 (120 Votes) |
Description:
Staff note: This may be outdated. Please use the version in the official resources that you can get from:
https://mirror.mtasa.com/mtasa/resources/mtasa-resources-latest.zip
This is hedit (Handling Editor) that's part of the official MTA resources since 2021.
Simple explanation: use this script for things like making your car's ENGINE faster (tune your car speed), or to make your car drive differently
Hedit is a panel in which you can modify the handling (or create new handlings) of any vehicle which you're driving. It's mostly used in freeroam servers, with most people using it to create drift and race handlings.
It can also import existing handling.cfg lines from GTA San Andreas (you can find many good handlings on the internet as well!) or export your real-time customized ha
ndling from hedit to GTA by using respectively "Tools > Handling.cfg" >> "Import" button or "Export and copy to clipboard" button. So therefore, you can make handlings for GTA SA singleplayer, by using MTA as well!

Resource topic: http://forum.multitheftauto.com/viewtopic.php?f=108&t=30494

Repository location: https://github.com/multitheftauto/mtasa-resources/tree/mas..y%5D/hedit

Have fun!
...

(more)
Version history
Version
Publish Date
Changes
2.1.6
2021-05-01 02:41:18
Synced with current version from official resources repo
Download
2.1.5
2020-04-14 11:16:31
Updated to latest version from Github (includes: added Arabic language)
Download
2.1.4
2017-06-09 21:19:41
Interface adjustments, bugfixes, and translations for Polish and Spanish
Download
2.1.3
2015-11-18 11:02:34
Made the resource much lighter - it no longer contains a copy of the git repository.
Download
2.1.2
2015-06-11 23:37:45
- Fixed hedit staying open on vehicle destroy
- Add Turkish language
- DragMeter now has a pixel threshold and can be disabled
- Fixed settings
Download
2.1.1
2015-03-07 23:22:49
Russian language update and memory leak fix
Download
2.180.0
2014-08-19 00:27:38
A brand new update bringing the DragMeter, ACL support and bug fixes!
Download
2.164.0
2012-02-09 13:12:44
First public release
Download