rssantiHorn (antihorn)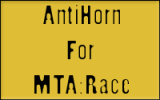 (see 1 picture)
| | |
| --- | --- |
| Category: | script |
| Author(s): | Wafamde |
| Downloads: | 774 |
| Rate: | You need to be logged in to vote |
| Rating: | 3.5 (2 Votes) |
Description:
If any changes to this resource is needed, please let me know here, on IRC or on the forums. Please note that this resource was scripting in a few minutes and is only intended to take care of the vehicle horn issue.
Should there be any problems then please report them to me asap so I can fix it.
------------------------------------------------------------
This script can take care of players that keep pressing the horn down during a race.
Noticed that a few race servers needed a script to kick players abusing the vehicle horn.
It is possible to change both the allowed horn time and the kick message inside the file 'antiHorn.lua'
Default Time: 10 seconds
Default Message: "Abusing Vehicle Horn"
------------------------------------------------------------
To make the re
source work, add the following line to your admin ACL.:
<object name="resource.antiHorn"></object>

Example:
<group name="Admin">
<acl name="Moderator"></acl>
<acl name="SuperModerator"></acl>
<acl name="Admin"></acl>
<acl name="RPC"></acl>
<object name="resource.antiHorn"></object>
</group>

------------------------------------------------------------

Your 'acl.xml' file can be found in:
MTA San Andreas 1.2\server\mods\deathmatch\acl.xml

------------------------------------------------------------

Forum thread: http://forum.mtasa.com/viewtopic.php?f=108&t=38671
...

(more)
Version history