rssChat System: Timestamps (timestamps)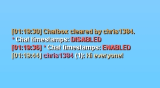 (see 1 picture)
| | |
| --- | --- |
| Category: | script |
| Author(s): | chris1384 |
| Downloads: | 365 |
| Rate: | You need to be logged in to vote |
| Rating: | 5 (2 Votes) |
Description:
* Chat System: Timestamps - by chris1384 @2021
This is just a small demonstration on how you can implement Chat Timestamps similar to SA-MP's chat system, it'll show you the exact hour, minute and second everytime a new line of text is outputted to the chatbox.
It's a small part of a completely overhauled chat system, I've decided to release it just to prove a neat event capability.
You can toggle it using the command '/timestamps'.
One great addition is the possibility of saving your setting, basically you use the command and it will remain as it is when rejoining.
Currently the only 'bug' this script has is the inability to distinguish between a colorcoded text and a regular non-colored one. Since some texts don't require colorcoding, HEX colors will apply on some lines which normally are not supposed to. (e.g. admin panel texts involving player names)
For more info, see the topic here:
https://github.com/multitheftauto/mtasa-blue/issues/2635
That's it for now, hopefully you'll find it useful! Enjoy!
Version history