rss[DD] Nebla - The Arrival ([dd]nebla-thearrival)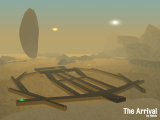 (see 2 pictures)
| | |
| --- | --- |
| Category: | map |
| Author(s): | Nebla |
| Downloads: | 214 |
| Rate: | You need to be logged in to vote |
| Rating: | 3 (1 Vote) |
Description:
The Arrival is a science fiction movie:

Twelve bizarre and mysterious alien crafts situate themselves around the world, an expert linguist, Dr. Louise Banks (Amy Adams) is recruited by the military to construct a means of conversing with the aliens to discover whether they arrived with peaceful or threatening intentions.

Map plot:

All the racers were after these objects that they could not identify. They partially succeeded in achieving their goal, and they set out to explore the area right between the 5 alien pods. But since this information is very important, every racer aims to steal all alien information by eliminating other racers.
Version history
| Version | Publish Date | Changes | |
| --- | --- | --- | --- |
| 1.0.0 | 2022-06-21 17:40:25 | First public release | Download |
Gamemodes for this map
| Name | Long name | Description |
| --- | --- | --- |
| race | Race | Staff note: This may be outdated. Please use the version in the offi.. |