rssde_mirage (de_mirage)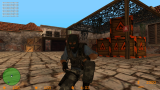 (see 6 pictures)
| | |
| --- | --- |
| Category: | map |
| Author(s): | JacobItaly |
| Downloads: | 331 |
| Rate: | You need to be logged in to vote |
| Rating: | None (0) |
Description:
Long awaited de_mirage is finally here! Thanks ZZZPuma for converting the map - made it to CSRW gamemode by myself. Share your thoughts about the map. Since comments are disabled here, and you'll experience problems with map, or something like that - let me know:
[email protected]
Use in CSRW gamemode!
Version history
Version
Publish Date
Changes
1.2.3
2022-05-11 17:33:21
- Added some objects to block off some not useful parts of the map (for example - in T spawnpoint there was a spot where you could climb up to hide, same in CT)
Download
1.2.2
2022-05-11 17:25:05
- Fixed script.lua popping up warnings about col, dff, txd being missing
- Fixed map name
Download
1.2.1
2022-05-11 17:11:31
- Fixed a small mistake. Now CSRW gamemode is added correctly in META.xml
Download
1.2.0
2022-05-11 17:04:45
First public release
Download
Gamemodes for this map
Name
Long name
Description
csrw
Counter Strike: RenderWare
Team Deathmatch game mode inspired by Counter Strike.

[!] Make su..