rssawp_india (awpindia)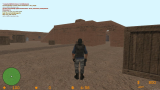 (see 3 pictures)
| | |
| --- | --- |
| Category: | map |
| Author(s): | JacobItaly |
| Downloads: | 267 |
| Rate: | You need to be logged in to vote |
| Rating: | None (0) |
Description:
awp_india - found in Lucifer's Tactics Gamemode (all credits to him) converted to CSRW Gamemode by Jacob.
This map is a most popular AWP aiming maps of all time. Conversion is from CS:S. Like in the Deagle map i've added pickups but they are not working also, so if you're a server owner or administrator you can try enabling something (maybe deathpickups will do the thing)
Any questions?
[email protected]
Version history
| Version | Publish Date | Changes | |
| --- | --- | --- | --- |
| 1.0.0 | 2022-02-23 19:03:00 | First public release | Download |
Gamemodes for this map
Name
Long name
Description
csrw
Counter Strike: RenderWare
Team Deathmatch game mode inspired by Counter Strike.

[!] Make su..