rssaim_deagle (aimdeaglecsrw)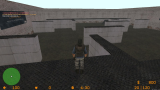 (see 3 pictures)
| | |
| --- | --- |
| Category: | map |
| Author(s): | JacobItaly |
| Downloads: | 251 |
| Rate: | You need to be logged in to vote |
| Rating: | None (0) |
Description:
aim_deagle - CS:GO conversion, found in Lucifer Tactics gamemode, all credits to him. Converted to CSRW by Jacob.
This map is an aim map. It has been textures from CS:GO. I've added Deagle pickups but they doesn't seem to work, idk. Maybe i'll add a script where you have unlimited money every round, or that you'll have enough money to buy Deagle atleast (i think you still can, so that's not a big problem), however you can use this map to "train" aiming with any weapon.
If map doesn't work or something let me know:
[email protected]
Version history
| Version | Publish Date | Changes | |
| --- | --- | --- | --- |
| 1.0.0 | 2022-02-23 18:59:06 | First public release | Download |
Gamemodes for this map
Name
Long name
Description
csrw
Counter Strike: RenderWare
Team Deathmatch game mode inspired by Counter Strike.

[!] Make su..