rss[MAP] Custom City Island (custom-city-island)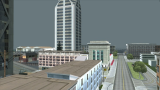 (see 9 pictures)
| | |
| --- | --- |
| Category: | map |
| Author(s): | Reiko: |
| Downloads: | 841 |
| Rate: | You need to be logged in to vote |
| Rating: | 4.5 (2 Votes) |
Description:
Forum thread:
https://forum.mtasa.com/topic/134496-map-custom-city-islan..-download/
Video:
https://youtu.be/RhQRFwo6vDE
Hello all. This is another custom map open to the public of the MTA community made by me. It's a new island where players are free to go and explore. Please be aware this map will not come with any resources other than the map itself, draw distance and some custom textures. Feel free to use the map for any gamemode.
Location:
X: 2904
Y: -792
Z: 11
This map offers the following stuff:
- Airport
- Beaches
- Bridges
- Contruction Area
- Dock
- Factories
- Fire Department
- Forested Area
- Gas Station
- Hospital
- Parking Lots
- Police Station
- Restaurants
- Ships
- Shopping Area
- Skyscrapers
- Small Mountain
- Stunt Objects
- Suburban Area
- Traffic Lights, Lampposts
- Warehouses
This map wasn't rushed in any way, I've always tried to deliver high quality maps, also it has been tested for bugs and gameplay.
Please do not upload these files on any other site. However, you are welcome to share the link to this site whereever you want.
Cheers and have fun!
---------------------------------------------------------
More Maps For Free:
[RACE] Reiko's Map-Pack:
https://forum.mtasa.com/topic/91820-race-reikos-map-pack-2016/
[RACE] RG's Map-Pack:
https://forum.mtasa.com/topic/91962-race-rgs-map-pack/
[RACE] Custom Racing Circuit Map-Pack:
https://forum.mtasa.com/topic/121182-race-custom-racing-ci..-download/
Version history
| Version | Publish Date | Changes | |
| --- | --- | --- | --- |
| 1.0.0 | 2022-02-22 05:31:54 | First public release | Download |