rsshava_savunma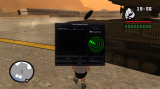 (see 1 picture)
| | |
| --- | --- |
| Category: | script |
| Author(s): | Chrys4lislove |
| Downloads: | 260 |
| Rate: | You need to be logged in to vote |
| Rating: | None (0) |
Description:
Hello, if you are tired of air attacks, I have coded a great script for you and it is completely open, you can see the players who have entered your area on the radar, you can shoot automatically or manually, you can use fog against attacks from land.
Attention - please do not play with the panel settings, the script will be broken.

Vehicle id - 609
The vehicle must be within 10 meters of you.


Merhaba, eğer hava hücumlarından bıktıysanız sizler için harika script kodladım ve tamamen açık kodlu, alanınıza girmiş oyuncuları radarda göre bilir ister otomatik ister manuel olarak ateş ede bilirsiniz, karadan yapılan saldırılara karşı sis kullana bilirsiniz.
Dikkat - panel ayarlarıyla lütfen oynamayın script bozulacaktır.

Araç id - 609
Araç sizin 10 metre yakınınızda olmalıdır.

Version history
| Version | Publish Date | Changes | |
| --- | --- | --- | --- |
| 1.0.0 | 2022-02-12 07:04:55 | First public release | Download |