rssmta-add-models (newmodels)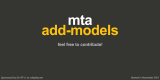 (see 1 picture)
| | |
| --- | --- |
| Category: | script |
| Author(s): | FernandoMTA |
| Downloads: | 524 |
| Rate: | You need to be logged in to vote |
| Rating: | None (0) |
Description:
Minimalistic library resource that lets you add new models to your server.
These can be:
- peds (skins)
- objects
- vehicles
The scripts make use of the engineRequestModel function, and sync models with all players.
ALL DOCUMENTATION ON GITHUB REPO:
https://github.com/Fernando-A-Rocha/mta-add-models
*** ADDITIONAL RESOURCES for testing/example implemenations on the GitHub repository ***
*** Post media of your creations with this resource on the Feedback Issue in the repo ***
Enjoy!
Version history
Version
Publish Date
Changes
1.8.0
2022-04-15 19:09:44
Added NandoCrypt support! See GitHub for in-depth changelog
Download
1.7.0
2022-03-10 19:38:20
- Added a fix for skin not loading after you re-spawn the player: it now refreshes
- Vehicle upgrades are now saved in the server for syncing to all clients. Previously vehicles would lose upgrades every time the model was changed clientside.
- Added ignoreTXD, ignoreDFF and ignoreCOL variables to use in mod_list and exported functions for loading models which don't need DFF/TXD(/COL for objects)
Download
1.6.9
2022-01-25 19:50:56
Important fixes + updated min version to r21125
Download
1.6.6
2021-11-22 19:04:49
Fixed a few small issues
Download
1.6.0
2021-11-21 02:05:56
Fixed a bug with custom ID applying
Download
1.5.2
2021-11-20 22:45:37
Fixed /testvehicles
Download
1.5.1
2021-11-20 22:35:52
Full changelog in GitHub repo - releases
Download
1.1.0
2021-11-17 06:46:15
Added support for new objects
Download
1.0.0
2021-11-17 05:08:12
First public release
Download