rssdl_neons (dl_neon)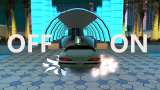 (see 2 pictures)
| | |
| --- | --- |
| Category: | script |
| Author(s): | Ren712 |
| Downloads: | 1181 |
| Rate: | You need to be logged in to vote |
| Rating: | None (0) |
Description:
Resource: dl_neon 0.1.3
Author: Ren712

Description:
This resource lets you draw projective textures at the bottom of the vehicles.
Hit F4 to open menu, select texture, size and apply color. The drawing
method is efficient enough to handle dozens of images without frame drops.
This resource works with (but doesn't require dl_core)
You can add new textures yourself - just edit neons xml and meta files and
add .dds images to img directory.

The resource requires shader model 3 gfx and readable depth buffer access.
Version history