rssGhost Racer Spectator (race_ghost_spectate)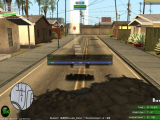 (see 1 picture)
| | |
| --- | --- |
| Category: | script |
| Author(s): | MegasXLR |
| Downloads: | 137 |
| Rate: | You need to be logged in to vote |
| Rating: | 5 (2 Votes) |
Description:
This resource is aimed mainly at racing enthusiasts. We know that there is a race_ghost resource which creates an AI vehicle that drives through the same spots where the player who made the top1 time went...This resource requires the race_ghost one to already be on the server. Here is a link to it:
https://community.multitheftauto.com/index.php?p=resources..amp;id=665
(Credits to @Awwu)
Ever wanted to spectate that ghost vehicle? Now you can!
Once installed correctly, this resource will allow you to spectate the ghost vehicle on maps which have it and also introduces a load of extra features to make the experience more enjoyable.
PLEASE READ THE TWO .txt FILES INDSIDE OF THE .zip FILE!
ALL INSTALLATION INSTRUCTIONS & HOW TO USE IT ARE THERE!
Have fun with your training...
Version history
Version
Publish Date
Changes
2.0.6
2019-02-08 12:43:20
Added 2 more camera modes and the ability to switch between them by pressing 'V' while you're spectating the ghost car.
All camera modes are the following: close, middle, far. :)
Download
2.0.5
2019-01-20 14:51:39
Fixed ghost vehicle not collecting checkpoint if they are not on the same height (removed z axis check completely).
Download
2.0.4
2017-12-18 15:43:01
Fixed a random 'nil field' error in some maps.
Download
2.0.3
2017-12-15 17:21:13
Fixed bug with the 'carhide' resource. Also simplified some instructions.
Download
2.0.2
2017-12-09 08:58:12
(staff) fixed meta.xml tags not to spam community frontpage
Download
2.0.1
2017-12-03 17:17:06
Updated 'INSTALLATION.txt'. Forgot to include a few very important steps and two functions stopped working because of this.
Download
2.0.0
2017-12-01 11:06:48
First public release
Download