rssGround Pickups (groundpickups)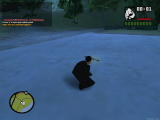 (see 6 pictures)
| | |
| --- | --- |
| Category: | script |
| Author(s): | Lex128, Riaz |
| Downloads: | 2763 |
| Rate: | You need to be logged in to vote |
| Rating: | 3.6 (47 Votes) |
Description:
This script allows create weapon pickups, which lay on ground, hang on wall, etc. While it may be only weapon.
*STAFF NOTE: first uploaded in 2010, recently suspended and now patched & unsuspended due to severe code vulnerabilities. UPDATE TO CURRENT RELEASE if you previously ran/run it!
To pickup or swap weapon press key 'k'.
To drop weapon press key 'l'.
Function to create a weapon pickup:
createGroundWeapon(weaponid, ammo, clip, posX, posY, posZ, rotX, rotY, rotZ, interior, dimension)
weaponid - the ID of weapon (for ex. - 31 (M4))
ammo - the ammo of weapon
clip - the ammo in clip of weapon (0 for full clip)
posX, posY, posZ - the position of weapon
rotX, rotY, rotZ - the rotation of weapon (for 'lay' use 97.3,120,0)
interior - the interior of weapon
dimension - the di
mension of weapon

The XML format - <groundweapon weaponid="" ammo="" clip="" posX="" posY="" posZ="" rotX="" rotY="" rotZ="" interior="" dimension="" />

p.s. In the process of testing the first version and in those versions could be any bugs.
...

(more)
Version history
| Version | Publish Date | Changes | |
| --- | --- | --- | --- |
| 1.2.0 | 2017-08-16 18:20:32 | Forgot to complete antispam/macro protection, fixed. | Download |
| 1.1.0 | 2017-08-16 16:42:44 | Additional script security fixes, code cleanup and modernisation | Download |
| 1.0.0 | 2017-08-16 14:38:38 | First critical security fix (remove and replace callServerFunction) in order to unsuspend | Download |