rssYetki Verme Panel (yetki-verme-paneli)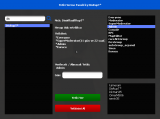 (see 1 picture)
| | |
| --- | --- |
| Category: | script |
| Author(s): | ertrldtcu |
| Downloads: | 3753 |
| Rate: | You need to be logged in to vote |
| Rating: | 2.4 (15 Votes) |
Description:
You can give or remove periodical rights.
ayar_s.lua (EN: setting_s.lua)is changeable section. Who open panel setting and if you will in another group in ACL, you add your account.
Time calculation is Normal Time Format. you suppose give 30 day right. You will start 30 day later if time expired will remove right.
Maximum:999 Day. Minimum: 1 Day. If you logged in, will output ChatBox last due date.
Offline players will be looks pale but will be start and join players after looks in list.
If you don't give admin rights,will script starting error output chatbox and script not running.
Script will create a ACL group and will be info message on output chatbox.
Version 1.2 updates:
Added player search.(write nick and click search icon)
When acl group selected acl group's players wil
l add to small list.(only player)
Changed bindkey: Alt Gr (ralt)

Give admin rights.
Open-Source

Translate: Lemonade :3

--TR
Süreli yetki verip, yetki alabileceğiniz bir script.
ayar_s.lua 'dan paneli açabilecek grubu ayarlayabilir ve kendinizi o gruba eklemeye uğraşmamak için kendi hesabınıza otomatik yetki verebilirsiniz.
Süre gerçek zaman üzerinden hesaplanır. Diyelim 30 gün yetki verdiniz. Scripti 30 gün sonra startladığınızda adamın süresi dolmuşsa yetkisi silinir.
En fazla 999 gün, en az 1 gün yetki verebilirsiniz.
Giriş yapıldığında eğer yetki bu panelden verildiyse kalan süresi chatboxta yazar.
Online olmayan oyuncular listede soluk bir şekilde gözükür. Ancak online olmayan oyuncular script başlatıldıktan sonra oyuncular servere giriş yaptıkça listeye eklenir.
Yetki alıp verdiğinizde chatboxta çıkar.
Eğer scripte Admin yetkisi vermediyseniz her başlattığınızda chatboxta uyarı cümlesi çıkar, panel açılmaz.
Eğer paneli açma grubunu kendiniz oluşturmadıysanız otomatik olarak oluşturuyordu. Artık grubun olmadığına dair chatboxta bilgilendirme yazısı çıkıyor.
Scripti başlattıktan sonra Admin yetkisini alırsanız script yetki almaz veya vermez ve chatboxta bilgilendirme yazısı çıkar.
Oyuncu hesabına giriş yaptığında yetki süresi dolmuş ancak scriptin yetkisi alınmışsa chatboxta bilgilendirme yazısı çıkar. Scripte yetki verildiğinde ve oyuncu hesabına tekrar giriş yaptığında yetkisi silinir.

Versiyon 1.2 ile gelen güncellemeler:
Oyuncu arama kutusu. (nicki yazdıktan sonra mavi büyüteçe tıklayın)
Acl grubu seçildiğinde küçük bir listeye o acl grubunun oyuncuları eklenir.(sadece oyuncular)
Bindkey Alt Gr (ralt)

Scripte yetki veriniz.

...

(more)
Version history