rss[mapfix]burning_desire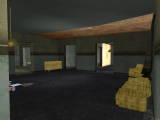 (see 6 pictures)
| | |
| --- | --- |
| Category: | misc |
| Author(s): | Flatliner__ |
| Downloads: | 166 |
| Rate: | You need to be logged in to vote |
| Rating: | 5 (4 Votes) |
Description:
Video:
https://www.youtube.com/watch?v=NEHDv4vxwUY
The mission interior in MTA had not the elements from the singleplayer scene "Burning Desire", on that place are only invisible walls. All parts can be found in MTA, you have now the choice to take the "map fix", all elements will be on the position where they are missing.
The elements are on dimension 0, changeable in the map/script file.
The Map has two variants: normal and destroyed as map or/and as script
You can activate the destroyed(also as script) version when you "re-mark" the line in the meta.xml file and remove the normal version.
Germany:
Das Missions Interior in MTA besitzt die Elemente für die jeweiligen Szenen nicht, daher gibt es dort nur eine durchsichtige Wand, dafür gibt es alle Teile als Objekte zu f
inden. Hier habt ihr die Möglichkeit die fehlenden Teile zu bekommen in einer Map und/oder als Script verpackt die im Interior positioniert wurden sowie die Version des Hauses wenn es in Trümmern liegt.
Die Objekte sind in der dimension 0, änderbar in der map Datei.
Deutscher Forum Thread: https://www.mta-sa.org/thread/31445-fix-burning-desire-hou..t-interior
...

(more)
Version history
| Version | Publish Date | Changes | |
| --- | --- | --- | --- |
| 1.0.0 | 2016-11-27 00:45:00 | First public release | Download |