rssSkills System (rskills)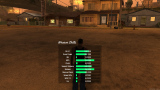 (see 1 picture)
| | |
| --- | --- |
| Category: | script |
| Author(s): | RageScripting |
| Downloads: | 1569 |
| Rate: | You need to be logged in to vote |
| Rating: | 4.7 (6 Votes) |
Description:
An old script.
Works perfectly only on 1280x720, because I haven't done it.
What you have to do is only add *sW and *sW, like this:
dxDrawRectangle(467*sW, 362*sW, 345*sW, 305*sW, tocolor(0, 0, 0, 80), true)
Press Z to show your skills

Anyways, you are free to use and modify it..
Version history
| Version | Publish Date | Changes | |
| --- | --- | --- | --- |
| 1.0.1 | 2015-03-08 13:34:19 | First public release | Download |