rssWaterEffects (watereffects)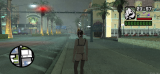 (see 4 pictures)
| | |
| --- | --- |
| Category: | script |
| Author(s): | Sam@ke |
| Downloads: | 3238 |
| Rate: | You need to be logged in to vote |
| Rating: | 4.7 (12 Votes) |
Description:
This is a short version of a postprocessing water effects shader. Maybe there will some bugs, but it works for a first version.
VIDEO:
https://www.youtube.com/watch?v=1qV2CwJV-_Q
Used technique is same as in Crysis, but effects has to been much simplified for work with MTA, so effect has not same quality as in Crysis.
Effects is visible after came out of water. A second more detailed effects is visible by driving a boat or if weather is rainy.
Feel free to use or recreate new stuff with it!
Version history
| Version | Publish Date | Changes | |
| --- | --- | --- | --- |
| 1.0.0 | 2015-03-06 11:21:37 | First public release | Download |