rssEasy DD (easydd)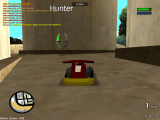 (see 2 pictures)
| | |
| --- | --- |
| Category: | map |
| Author(s): | Mann99 |
| Downloads: | 313 |
| Rate: | You need to be logged in to vote |
| Rating: | None (0) |
Description:
This is my first map. Enjoy!

Note: At last you will get Hunter use it to blast all other players!

Please comment and vote =D

If you can't get hunter's location please see the location in the screenshot uploaded!

I recommend that you guys must use a race system in which the last player alive wins or this thing is Epic fail :>

And also this is my first map and resource so please don't blame me if you don't like it i will improve it ASAP!

Enjoy :>!
Version history
| Version | Publish Date | Changes | |
| --- | --- | --- | --- |
| 1.0.0 | 2014-05-28 17:08:10 | First public release | Download |
Gamemodes for this map
| Name | Long name | Description |
| --- | --- | --- |
| race | Race | Staff note: This may be outdated. Please use the version in the offi.. |