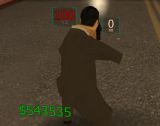 (see 1 picture)
| | |
| --- | --- |
| Category: | misc |
| Author(s): | KryPtoHolYx |
| Downloads: | 6169 |
| Rate: | You need to be logged in to vote |
| Rating: | 4.1 (27 Votes) |
Description:
a 3D Hud like in Dead Space ( not 100 % the Same )
Settings are in the client file.

Please keep the credits.

Regards
v 1.0.5 // added ability to change the bones where the HUD will be drawn.
v 1.1.0 // is without the resolutions fix. ( it don´t let me delete versions :( )
v 1.1.1 // is with the resolutions fix.
Version history
| Version | Publish Date | Changes | |
| --- | --- | --- | --- |
| 1.1.61 | 2013-11-30 02:32:48 | | Download |
| 1.1.6 | 2013-11-30 02:12:49 | Bugfix, and money drawing fix. | Download |
| 1.1.5 | 2013-11-27 16:53:22 | Added the HUD for all players. | Download |
| 1.1.1 | 2013-11-27 15:27:32 | Multi resolutions fix ! | Download |
| 1.1.0 | 2013-11-27 14:52:03 | Fixed money drawing, added abbility to disable the HUD, Multi resolutions fix. | Download |
| 1.0.5 | 2013-11-24 13:56:36 | | Download |
| 1.0.0 | 2013-11-24 00:14:28 | First public release | Download |