rssEmergency Lights (emerlights)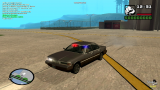 (see 1 picture)
| | |
| --- | --- |
| Category: | misc |
| Author(s): | vovo4ka |
| Downloads: | 9518 |
| Rate: | You need to be logged in to vote |
| Rating: | 4.1 (15 Votes) |
Description:
Emergency lights for Stage resource. Also can be used individually without Stage(but it needs some tuning ;).
For enable lights press B button (or re-bind it in MTA settings).
In the most cases movie makers uses custom vehicle models. So it needs to adjust lights position and colors individually (look into client.lua there are some instructions).
demo video
http://www.youtube.com/watch?v=l-Grhaz6IAM
and
http://www.youtube.com/watch?v=f-TPk67dhUg
Version history
Version
Publish Date
Changes
1.0.1
2012-06-23 15:34:14
some network optimization
Download
1.0.0
2012-06-23 15:04:38
Fixed some issues with Stage.
Added LED flasing mode.
Stroboscopic lights now is disabled by default. It can be enabled by using 'strobo' command in console (local player effect).
Implemented lights positions for emergency vehicles.
Only listed vehicles can use lights.
Download
0.5.0
2012-06-13 07:59:35
First public release
Download