rssSpeed-o-meter (speedometer)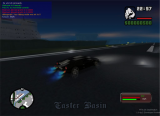 (see 2 pictures)
| | |
| --- | --- |
| Category: | misc |
| Author(s): | 50p |
| Downloads: | 27562 |
| Rate: | You need to be logged in to vote |
| Rating: | 3.8 (291 Votes) |
Description:
Nice GUI speedometer with health and speed bars!

I don't like speedometers in GTA series myself, but by testing functions and learning LUA such ideas comes to your mind. It's really nice GUI speedometer.

If you like racing, are owner of a freeroam server or just like little realism in GTA then this speedometer is for you!

Features:
* using key '/' you can change the units form mph to km/h

In-but-out (features in the code but commented):
* key 'L' used for switching on/off lights
* locking vehicles using ';' key
* status icons (when you lock vehicle or switch on/off lights icons will change)

_________________________________________________
Thanks go to error404 especially for help on IRC.
Version history