rss[DD] The ring of the Sandking - Chris (race-dd-theringofthesandkingchris)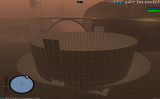 (see 1 picture)
| | |
| --- | --- |
| Category: | map |
| Author(s): | EPG-Soka |
| Downloads: | 980 |
| Rate: | You need to be logged in to vote |
| Rating: | 3 (1 Vote) |
Description:
Hey,
After some questions from people that wanted some of my DD maps I decided to release all of my (play worthy) maps.
Because giving it to one person usually leads to sharing and I don't like that stuff at all.
I hope you will have fun on this DD.
Chris,
PS: you can also find the whole package on:
http://chris.ruisfm.nl/EPG-Chris_MapPack.zip
Version history
| Version | Publish Date | Changes | |
| --- | --- | --- | --- |
| 0.0.1 | 2012-04-05 23:53:47 | First public release | Download |
Gamemodes for this map
| Name | Long name | Description |
| --- | --- | --- |
| race | Race | Staff note: This may be outdated. Please use the version in the offi.. |