rssctf-dra-warehouse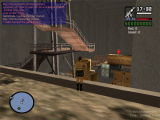 (see 3 pictures)
| | |
| --- | --- |
| Category: | map |
| Author(s): | Dragon |
| Downloads: | 782 |
| Rate: | You need to be logged in to vote |
| Rating: | 4.4 (7 Votes) |
Description:
A small CTF-map designed like a Warehouse. Many crates, shelves and also many weapons. Good luck, have fun!

Mode: CTF
Version: 1.0
Teams: 2
Size: Small
Autobalance: Yes
Friendly Fire: Yes
Respawn(sec): 15
Duration(min): 10
Vehicles: No
Custom Map: Yes
Creator: eXo|Dragon[Ger]
Created: Jan 08
Specials: -

Renaming this map is NOT allowed!
Version history
| Version | Publish Date | Changes | |
| --- | --- | --- | --- |
| 1.0.1 | 2009-08-25 16:59:28 | added a camera view | Download |
| 1.0.0 | 2008-02-09 15:47:12 | First public release | Download |
Gamemodes for this map
| Name | Long name | Description |
| --- | --- | --- |
| ctf | Capture the Flag | MTA's CTF Mode. |