rssctf-hideout_z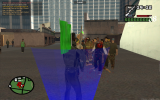 (see 3 pictures)
| | |
| --- | --- |
| Category: | map |
| Author(s): | Dragon, slothman |
| Downloads: | 1121 |
| Rate: | You need to be logged in to vote |
| Rating: | 4.2 (9 Votes) |
Description:
This is a custom mid-size ctf (capture the flag) map. But wait - theres more! It also features zombies using Slothman's zombies resource (
http://community.mtasa.com/index.html?p=resources&s=de..p;id=347)!
You'll need Slothman's zombies resource if you want to run it with zombies. Please also note that peds (the zombies) are a feature of MTA:1.0, so it will NOT work with dp2.3 or below.
If you want to run this map as a normal ctf map just remove the "<include resource="zombies" />" in the meta.xml.
Thanks to Slothman, who placed the zombie spawns.
Have fun!
Version history
Version
Publish Date
Changes
1.0.1
2009-07-13 13:08:46
Changed weather to foggy (9)
Set time to 20:00
Download
1.0.0
2009-07-13 12:49:59
First public release
Download
Gamemodes for this map
| Name | Long name | Description |
| --- | --- | --- |
| ctf | Capture the Flag | MTA's CTF Mode. |