rssdl_ssao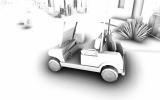 (see 1 picture)
| | |
| --- | --- |
| Category: | script |
| Author(s): | Ren712 |
| Downloads: | 145 |
| Rate: | You need to be logged in to vote |
| Rating: | None (0) |
Description:
Resource: dl_ssao v0.0.3
Author: Ren712
Description:
Screen space ambient occlusion (SSAO) is a computer graphics technique for efficiently
approximating the ambient occlusion effect in real time. This implementation is heavily based
on reshade mxao shader (1.
5.7-2.0)
by Marty McFly.
https://reshade.me/forum/shader-presentation/1874-marty-mc..ao-with-il
The effect is applied before gtasa effects (smoke, fire etc) are drawn.
Uses (but does not require) dl_core in order to provide interpolated normals
for peds and vehicles.
You can customise the effects by editing fx/ssao_dl_settings.txt
Version history
| Version | Publish Date | Changes | |
| --- | --- | --- | --- |
| 0.0.3 | 2021-10-01 18:56:43 | First public release | Download |