rssdl_shader_detail (dl_shader_detail)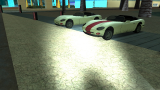 (see 1 picture)
| | |
| --- | --- |
| Category: | script |
| Author(s): | Ren712 |
| Downloads: | 164 |
| Rate: | You need to be logged in to vote |
| Rating: | None (0) |
Description:
Resource: dl_shader_detail v0.1.0 (modified shader_detail v0.0.3 by ccw)
Modified by: Ren712
Source:
https://wiki.multitheftauto.com/wiki/Shader_examples
Original description:
Applies a few monochrome detail textures, at various scales, to (parts of) the world.
Additional description:
I have modified shader_detail v0.0.3 resource to make it work with deferred lighting
(dl_core resource). It can also work without it as well.
Version history