rssdl_projectiles (dl_projectiles)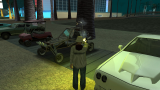 (see 1 picture)
| | |
| --- | --- |
| Category: | script |
| Author(s): | Ren712 |
| Downloads: | 127 |
| Rate: | You need to be logged in to vote |
| Rating: | None (0) |
Description:
Resource: dl_projectiles v0.0.1
Author: Ren712

Description:
This resource lets You create some light effects related to player activity - shooting,
throwing molotovs, vehicle explosions and so on. It uses custom functions introduced
in dl_lightmanager and dl_core resources. It works for most of the weapons, except minigun
and flamethrower. I may do something about it, but later.
Version history
| Version | Publish Date | Changes | |
| --- | --- | --- | --- |
| 0.0.1 | 2021-10-01 17:50:54 | First public release | Download |