rssLights Add-on for Map Editor (editor_addon_lights)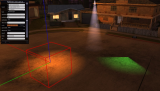 (see 1 picture)
| | |
| --- | --- |
| Category: | script |
| Author(s): | myonlake |
| Downloads: | 214 |
| Rate: | You need to be logged in to vote |
| Rating: | None (0) |
Description:
This resource is still a beta release and under construction. Use at your own peril.
You want to add lights inside the MTA:SA Map Editor? You've come to the right place.
Find this resource also on GitHub:
https://github.com/patrikjuvonen/editor_addon_lights
______________________
Installation
You must download and install the following resources to use this resource:
- dl_core by Ren712
- dl_lightmanager by Ren712
Once you've installed the prerequisities, we can install this resource!
1. Download the latest release
2. Put the resource inside your MTA San Andreas 1.5/server/mods/deathmatch/resources folder
3. Refresh resources by running refreshall in your server console
4. The add-on is ready for use!
______________________
How to use in map editor
1. S
tart the map editor resource (editor) or enter the Map Editor from the main menu
2. Click "definitions" from the top editor menu
3. Add "editor_addon_lights" to your definitions and press OK
4. dl_lightmanager resource should have been automatically started, if this is not the case, please start it manually
5. Hover on the buttons in the bottom-left corner, and scroll your mouse wheel once
6. Click the "Light" button to place a new light into the game world
7. Double-click the light to change its properties
8. Once you've finished with your map, save the map in a resource

______________________

How to use with a saved map

Start your map resource together with this editor_addon_lights resource, and you should be able to see the lights placed in the game world using your defined settings!
...

(more)
Version history
| Version | Publish Date | Changes | |
| --- | --- | --- | --- |
| 0.1.4 | 2021-08-22 12:19:33 | Beta release | Download |