rssTrain horn (trainhorn)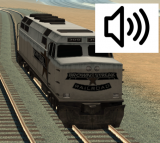 (see 1 picture)
| | |
| --- | --- |
| Category: | script |
| Author(s): | Dutchman101 |
| Downloads: | 281 |
| Rate: | You need to be logged in to vote |
| Rating: | None (0) |
Description:
Staff note: This may be outdated. Please use the version in the official resources that you can get from:
https://mirror.mtasa.com/mtasa/resources/mtasa-resources-latest.zip
Train horn sound, hit 'H' key while driving a train like if you were in a car!
The horn is synced, which means other players can hear it from afar (up to 250 meters by default).
It's the most optimized (both script and sound) to implement train horn, without clutter
Version history