rssSpeaker system (music and internet radio streaming) (speaker_system)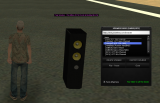 (see 1 picture)
| | |
| --- | --- |
| Category: | script |
| Author(s): | Dutchman101 |
| Downloads: | 2301 |
| Rate: | You need to be logged in to vote |
| Rating: | 4.8 (4 Votes) |
Description:
Speaker system, it lets players create their own boxes to stream music (internet radio, and sound links like .mp3), and other players will hear it.
- Sizable list of preset internet radio stations (see pic)
- Players can also use custom URL, to play their own music
- Speakers will be placed near player, or if they are inside a vehicle, it will be attached to their vehicle
- Song title, if present, will be displayed above the speaker
- Players (with "Turn other box" button) can decide if they want to hear everyone's speakers, or only their own speakers. This is useful for not having to listen to other people's music taste, a lot of music mixing with eachother, limited bandwidth, and for security aware users. This option will be saved in client settings file.
- Admins can see the
name of player who placed an individual speaker (hold left alt) and delete a speaker with /delbox [ID]. The ID is displayed next to speaker owner name.

- True 3D sound, fading based on distance and angle from the speaker location

It was written from scratch a good while ago, and why not share it. This is the speaker system used on Freeroam [P] server.

Feedback can be left in this topic: https://forum.mtasa.com/topic/128293-rel-speaker-radio-system/
...

(more)
Version history