rssTK Off Road race script (tk rally script)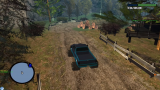 (see 7 pictures)
| | |
| --- | --- |
| Category: | script |
| Author(s): | True_Killuminati |
| Downloads: | 125 |
| Rate: | You need to be logged in to vote |
| Rating: | 5 (1 Vote) |
Description:
This is a script that you can use in many types of servers.
A teleport (with map icon) at the racetrack in Las Venturas will bring you to a very nice rally / Off road map.
At the end of the route you find an exit teleport that brings you back to the Las Venturas racetrack.
This how the map looks like:
https://www.youtube.com/watch?v=k8RfPRxfbs8
If you like this script make sure you take a look at my other scripts also.
Have fun!
Version history
| Version | Publish Date | Changes | |
| --- | --- | --- | --- |
| 1.0.0 | 2020-11-02 20:27:56 | First public release | Download |