rssTopKills (topkillspanel)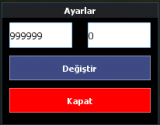 (see 2 pictures)
| | |
| --- | --- |
| Category: | script |
| Author(s): | talhatugsat |
| Downloads: | 415 |
| Rate: | You need to be logged in to vote |
| Rating: | 4 (1 Vote) |
Description:
English:
TopKills Panel
What does it do?

It allows you to check the kills of the players on the server.

1) It does not use the CPU from the server part because it does not get data from the server's database every on / off.
2) Authorized persons can play with the players' data as they wish.
3) The script is completely stabilized, there is no instant CPU rise in any way.

Türkçe:
Öldürme Panel,
Ne işe yarar?
Sunucudaki oyuncuların öldürme sayılarına bakmanıza yarar.

Özellikleri Neler?
1) Server'in databasesinden her açma/kapamada veri çekmediğinden dolayı server kısmından cpu'yu kullanmıyor.
2) Yetkili kişiler istediği gibi oyuncuların verileriyle oynayabiliyor.
3) Script tamamen stabilize olmuş durumda, hiçbir şekilde anlık cpu yükselişi olmuyor.

Version history
| Version | Publish Date | Changes | |
| --- | --- | --- | --- |
| 1.3.0 | 2020-08-15 13:25:25 | panel öldürme/ölme tabanına geçti. | Download |
| 1.2.0 | 2020-08-14 13:05:55 | sıralama sorunu giderildi, max pozisyon eklendi, küçük düzeltmeler yapıldı, öldürülen oyuncudan 1 puan alındı. | Download |
| 1.1.0 | 2020-08-12 14:43:03 | attacker started to be controlled (onPlayerWasted event) | Download |
| 1.0.0 | 2020-08-12 13:51:36 | First public release | Download |