rssshader_lut (shader_lut)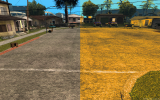 (see 1 picture)
| | |
| --- | --- |
| Category: | script |
| Author(s): | Ren712 |
| Downloads: | 274 |
| Rate: | You need to be logged in to vote |
| Rating: | 5 (1 Vote) |
Description:
Resource: shader_lut v0.0.2
Source: Marty's LUT shader 1.0 for ReShade 3.0
Destription:
This resource runs lut.fx ReShade shader translated for MTA.
What is a LUT?
In short, it's an image that holds color information.
How does it work ?
LUT's are loaded with a shader called LUT.fx, which applies
any color corrections made on the LUT image to your game.
It also takes virtually no system resources to run. Even if
you can't run most other shaders, you can run a LUT.
I start the resource and nothing happens
You need to read the guide under the link to set it up correctly.
You will find source and quick gimp tutorial under the link:
https://reshade.me/forum/shader-discussion/3179-lut-s-powe..-the-guide
Version history
| Version | Publish Date | Changes | |
| --- | --- | --- | --- |
| 0.0.2 | 2020-02-02 00:58:36 | First public release | Download |