rssGTA V Animations (gta v animations)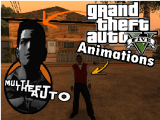 (see 1 picture)
| | |
| --- | --- |
| Category: | script |
| Author: | Dinaz |
| Downloads: | 2214 |
| Rate: | You need to be logged in to vote |
| Rating: | 5 (3 Votes) |
Description:
*****
THIS VERSION HAS A BUG, PLEASE DOWNLOAD THIS ONE:
https://community.multitheftauto.com/?p=resources&s=de..p;id=15849
*****
GTA V Animations came to MTA:SA , It's a pack of animations from GTA V , It changes your walking , Jumping , Sprinting Entering car etc....
This video explains it all:
https://www.youtube.com/watch?v=zapmpg-2_Q0
***How to Download***
*Download this Script.
*Extract it.
*Remove the spaces from it "from gta v animations to gtavanimations"
*Go to -> MTA SA File -> Server -> Mods -> Deathmatch
-> Resources
*Then Put the folder in it.
*Open your server
*Start The script
*Enjoy!
***NOTE***
Some of you would ignore"***How to Download***, If you didn't read it you couldn't know how to download the resource, So please read it.
Version history
| Version | Publish Date | Changes | |
| --- | --- | --- | --- |
| 1.0.0 | 2019-01-05 14:44:15 | First public release | Download |