rssTips System (tips_system)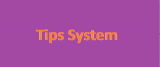 (see 1 picture)
| | |
| --- | --- |
| Category: | script |
| Author: | Crytx |
| Downloads: | 107 |
| Rate: | You need to be logged in to vote |
| Rating: | 5 (1 Vote) |
Description:
Hello Community !

Today I brought you a new resource called 'Tips_System'. This simple resource helps you to display your tips / rules in player's chat in every 15 seconds. You can edit the interval and tips / rules inside the resource. You had to open 'tip_list.lua' to include your own tips / rules. Edit table in there and add yours in the correct form. As well as open 'tip_s.lua' to adjust the interval of the tip from last tip.

Comment anything you want !

Enjoy ! See you in the next resource :) Have a great day !
Version history
| Version | Publish Date | Changes | |
| --- | --- | --- | --- |
| 1.0.0 | 2018-12-02 04:29:44 | First public release | Download |