rssMission Home Invasion (homeinvasion)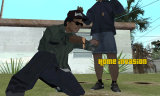 (see 1 picture)
| | |
| --- | --- |
| Category: | script |
| Author: | heihei |
| Downloads: | 353 |
| Rate: | You need to be logged in to vote |
| Rating: | 3.5 (6 Votes) |
Description:
★ MISSION: HOME INVASION ★

* Description:
Mission Home Invasion from GTA:San Andreas, it is not completely the same but it works almost in the same way.
After finishing the mission you must wait 3 minutes to take it again.
Reward is: $ 50,000

* How to use:
Go to Ryder's house to take the mission, then go find the weapons boxes in the house and take them back to Ryder's house.

-> Compiled script, do not complain with me, just enjoy it!
Version history
| Version | Publish Date | Changes | |
| --- | --- | --- | --- |
| 1.0.0 | 2018-11-11 03:06:35 | First public release | Download |