rssArac Kontrolleri (bycash_arackontrolleri)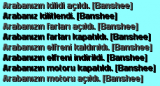 (see 1 picture)
| | |
| --- | --- |
| Category: | script |
| Author: | ByCash |
| Downloads: | 297 |
| Rate: | You need to be logged in to vote |
| Rating: | 3 (2 Votes) |
Description:
Türkçe (Turkish)
Araç Kontrolleri
* Araç kilidi, farları, el freni ve motor kontrolleri vardır.
* Far Tuşu "K", kilit tuşu "L", el freni tuşu "n", motor tuşu "m".
* Tuş ayarları client-side dosyasından yapılabilir.
Detaylı bilgi için
www.MTASATURK.com
'u ziyaret ediniz.
━━━━━━━━━━━━━━━━━━━━━━━━━━
İngilizce (English)
Vehicle Controls
* Vehicle lock, headlights, engine and hand brake are controlled.
* Headlamp key "K", lock key "L", handbrake key "n", engine key "m".
* Key settings can be made from the client-side file.
For detailed information
www.MTASATURK.com
Version history
| Version | Publish Date | Changes | |
| --- | --- | --- | --- |
| 1.0.0 | 2018-03-28 18:47:29 | First public release | Download |