rssSistema de niveles (nivel)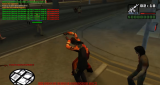 (see 3 pictures)
| | |
| --- | --- |
| Category: | script |
| Author: | theandrixx |
| Downloads: | 505 |
| Rate: | You need to be logged in to vote |
| Rating: | 5 (1 Vote) |
Description:
Sistema de niveles.
Ganas experiencia si matas a otro jugador; al llegar al total de experiencia subes de nivel.
Entre las opciones, se pueden reconfigurar:
- La cantidad de experiencia adquirida.
- El nivel máximo.
- El nivel inicial.
- Perder experiencia al morir (si o no)
La experiencia y el nivel se guardan en la cuenta del jugador.
También sirve para ganar experiencia matando zombies, aquí un tutorial enseñando como modificarlo:
https://www.youtube.com/watch?v=Aw0RvRqyD8U
English:
System of levels.
You gain experience if you kill another player; When you reach the total experience you level up.
Among the options, you can reconfigure:
- The amount of experience acquired.
- The maximum level.
- The initial level.
- Lose experience when dying (true
or false)

The experience and level are saved in the player's account.

Also serves to gain experience killing zombies, here a tutorial teaching how to modify it:
https://www.youtube.com/watch?v=Aw0RvRqyD8U
...

(more)
Version history
| Version | Publish Date | Changes | |
| --- | --- | --- | --- |
| 1.0.0 | 2017-07-09 23:23:07 | First public release | Download |