rsskmb_mine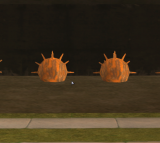 (see 1 picture)
| | |
| --- | --- |
| Category: | map |
| Author(s): | LopSided_ |
| Downloads: | 77 |
| Rate: | You need to be logged in to vote |
| Rating: | 3 (2 Votes) |
Description:
This resource effects the "kmb_mine" object, enabling the bounce/deflection property when you hit it with certain vehicles; such as the Dune, Dumper, FBI Truck & more.

In layman's terms: Hit the "kmb_mine" with a vehicle, and you'll go flying off into the distance!

This resource has been packaged as a map, to provide you with an example on how it works.

Enjoy.

----------------

[INSTRUCTIONS]

Simply create a map which includes the kmb_mine object (ID: 2918), and include "server.lua" with it.

----------------

[IMPORTANT!]

I would advise that you only include the script once you've finished creating your map. Using the script whilst in the map editor alongside 'test/race' functions will remove all instances of the "kmb_mine" object upon returning to editor mode.

Version history
| Version | Publish Date | Changes | |
| --- | --- | --- | --- |
| 1.0.1 | 2017-03-29 02:31:43 | Removed outputChatBox debug, left over from testing. | Download |
| 1.0.0 | 2017-03-29 02:26:40 | First public release | Download |
Gamemodes for this map
| Name | Long name | Description |
| --- | --- | --- |
| race | Race | Staff note: This may be outdated. Please use the version in the offi.. |