rss/sv-spawn-vehicle-NEW (sv-spawner)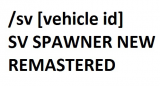 (see 1 picture)
| | |
| --- | --- |
| Category: | misc |
| Author: | Dutchman101 |
| Downloads: | 209 |
| Rate: | You need to be logged in to vote |
| Rating: | 3.7 (3 Votes) |
Description:
Mostly rewritten and modernised /sv vehicle spawner as Static-X's original version was flawed with many bugs/exploits.
Usage: /sv [vehicle id] or [vehicle name]
- Vehicle block list is now consistent (no more ID.decimal exploit to still get blocked veh)
- Fixed glitch where passenger could de-spawn vehicle of driver, by simply using /sv while triggering enter (jack vehicle) anim. Troll bother glitch
- Only lets players replace their own vehicles (as /sv respawns any vehicle you're in to the newly chosen model)
if you want them to be able to replace Freeroam-or other gamemode created vehicles, just add setElementData 'svcreator' to run behind the function creating vehicles in your gamemode
- Blocked vehicles specifically abusable in combination with /sv only BY DEFAULT.. you
can define and change it. (like a RC Baron can be binded to spawn on /sv and kill anyone infront of player immediately with its minigun, unfair advantage).. so with the hunter, hydra, etc that give unfair advantage in same fashion.

I give partial credits to Static-X for the initial 2011 idea and script (https://community.multitheftauto.com/index.php?p=resources..p;id=1237) but this remastered script is just a shell of that. It was structurally redesigned.

More bugs than those listed were fixed that I cannot remember.
...

(more)
Version history