rssYönetici Paneli (bycash_yöneticipaneli)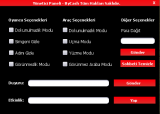 (see 1 picture)
| | |
| --- | --- |
| Category: | script |
| Author: | ByCash |
| Downloads: | 134 |
| Rate: | You need to be logged in to vote |
| Rating: | 4.1 (19 Votes) |
Description:
Türkçe:
Yönetici Paneli
*Panel 'F9' ile açılır.
*Paneli sadece yöneticiler açabilir.
*Bütün özellikler resimde gösterilmiştir.
*Script 1.5.3 ve üst sürümündeki sunucularda çalışmaktadır.
Detaylı bilgi için forumumuzu ziyaret edebilirsiniz.
www.MTASA-TURK.com
English:
Admin Panel
*Panel is opened with 'F9'.
*Panels can only open managers.
*All features are shown in the picture.
*Script is running on 1.5.3 and higher servers.
For more information you can visit our forum.
www.MTASA-TURK.com
https://forum.mtasa.com/topic/94165-admin-panel-2017/
Version history
| Version | Publish Date | Changes | |
| --- | --- | --- | --- |
| 1.0.0 | 2017-03-20 15:50:59 | First public release | Download |