rssautotreasure (autotreasure)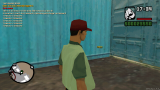 (see 2 pictures)
| | |
| --- | --- |
| Category: | script |
| Author: | FreeLANMan |
| Downloads: | 162 |
| Rate: | You need to be logged in to vote |
| Rating: | None (0) |
Description:
Automatic treasure in the map!
[ENG]
This script create a treasure every 10min.
- You have to reach the treasure in 6min.
- 50% of chance to get money (10000), 50% to get a super power!
- You only can have one power at time.
- 5 diferent super powers:
- Levitation: You can jump roof to roof!
- Burn all: You can burn all around you (vehicles, peds, players). For a super villain.
- Fix all: You can fix all vehicles around you.
- Invisible: You become invisible and can make vehicles invisibles if you want.
- Golem master: You can make a golem (ped) that fight for you (if you have a team)
- Every power can have a side efect.
- Your power will be save if you make a login.
- You lost your power if you die.
- Dont use freeroamslothbot, use the original slothbot.
- Start th
e resource before make a login, or you lose your superpower.

- Commands:
/icanmakegolem - For make a golem if you have this power
/icankillgolem - For kill your golem
/imakeinvisible - Turn your vehicle invisible (if you have this power)
/icanfix - For fix all vehicles (if you have...)
/icanburn - For burn all (if you ...)

[PT]
Esse script cria um tesouro a cada 10min.
- Você tem 6min. para chegar ao tesouro.
- 50% de pegar dinheiro, 50% de ganhar um super poder!
- Você só pode ter um poder de cada vez.
- Inicie este recurso antes de fazer login para não perder o super poder que você já tinha.

Veja também meus outros recursos:
https://community.multitheftauto.com/index.php?p=profile&id=423949

...

(more)
Version history