rssKWK YouTube (kwkyoutube)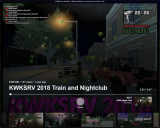 (see 4 pictures)
| | |
| --- | --- |
| Category: | script |
| Author(s): | KWKSND |
| Downloads: | 62 |
| Rate: | You need to be logged in to vote |
| Rating: | 4 (1 Vote) |
Description:
This resource will move the player to a safe location on join(not required can delete if you like), then creates a web browser for the client to view YouTube videos while the resources finish downloading.

The browser will close when the player spawns or presses the escape key.

/youtube to view it again anytime.

You can easily set your own YouTube vids, spawn location, and title for browser, etc, in the files.

Obviously this resource will work best for servers having large downloads for new players, and even better if the game mode spawns the player immediately after downloads are done, but not required.

As seen on KWKSRV 2020 MTASA game server.
Version history
| Version | Publish Date | Changes | |
| --- | --- | --- | --- |
| 1.0.0 | 2020-08-14 07:52:49 | First public release | Download |